For those who are anticipating summer like me, its about beach, camping, hiking and other sports activities.
From there, one can also prepare a must-have especially if you like this kind of weather to be one of a kind.    It can be any stuff that can be a preparation for purchase.
Example is Shopee without the hassle of literally getting your time to shopping.  One can do it at the convenient of your mobile phone, registered and voila, one can have selection thru the Search option.
Best part, hassle free if one purchase P 500.00 with free delivery service nationwide.
Here are my suggestions must-haves with Shopee which I found also affordable:
1. Cap
Cap is one of the best way to protect the scalp from the effects of the ultraviolet rays. Pick also a cap with mesh at the back to allow the scalp to breathe.
2. Foldable Tote Bag
During summer, I prefer this kind of bag to my good old backpack due to its convenience as I can fold it.
Even I will be in hike, biking or camping, its always on-the-go for me.  There are also color selection one can choose with Shopee.
Still I prefer the black ones.
3. Sunglass
Sunglasses would always contribute to the protection of the eyes against ultraviolet radiation.
4. Waterproof Sandals Slippers
One can also wear a lightweight, waterproof slippers that can go straight from the beach to the sand bar.
5. Watch
This simple watch is perfect for day trips and its water-resistant.
6. Khaki Shorts
Shorts should hit above the knee this summer like the Khaki Shorts. Avoid also wearing cargo as this is heavy in wearing them.
7. Flip-flop
Do not forget to pick up a pair of flip-flops. They are affordable, waterproof, and great for travel.
8. Speakers
These waterproof sound speakers can be zip out your device that is fully protected from rogue splashes.
9. Hiking Shoes
Breathable yet light hiking shoes would be a preference this summer.
10. Stainless Steel BBQ Skewers
Rust-resistant stainless steel design for a barbeque skewers are also perfect this summer which can be hand carried and do it even in a table.
To make your shopping more enjoyable, use the code BSUKIRUELUMALI for P 80.00 off discount on your first purchase. Go also for the sale items to make your purchase more affordable which I did.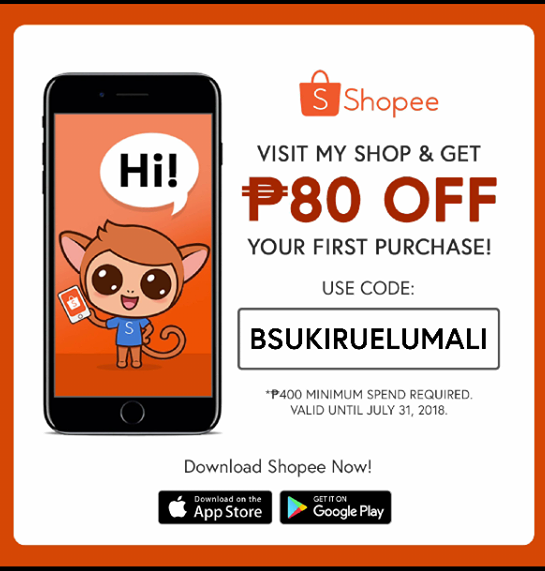 For more information:
Visit their website, https://shopee.ph/
Visit their social media accounts:
Facebook: https://www.facebook.com/ShopeePH/
Twitter: https://twitter.com/shopeeph?lang=en
Instagram:  https://www.instagram.com/shopee_ph/?hl=en