Let Wine Story take you to a taste tour through France with a variety of Wines and Cheeses billed " L'Ensemble Parfait" (The Perfect Match).
Have a greater appreciation for this timeless pairing as our cheese partner, Chef Selection of Spiral's LÉpicerie (The Cheese Room), showcases more than a dozen French cheeses to satisfy every craving while perfectly matched with Wine Story wines.
This will be held at Wine Story in Shangri-La Mall branch ( ground floor) along EDSA, Mandaluyong City. The wine and cheese tasting event will start at 10AM to 3 PM.
Chef Selection will also give a "'Cheese Talk" at 11:00AM to 11:30 AM and at 1:00 PM to 1:30PM. Ticket is P2,000 per person.
Check out other exciting wine events offered on the same day : " Wine & Cheese Pairing" at 2PM to 4PM And " Wine101″ Class by Wine Story Academy at 6PM to 8 PM and get access to exclusive Wine Story and Wine Story Academy offers.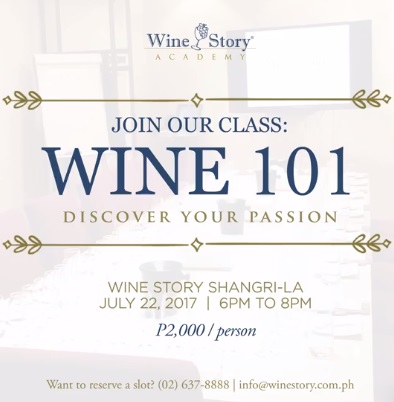 Participants of the event get an exclusive 5% OFF in the class fee if you sign-up in Wine Story Academy's Wine 101 and Wine & Cheese Pairing happening on the same day.
For inquiries and reservations, please call +632 6378888 or email at info@winestory.com.ph